Please tell us the origins of your amazing band name!
Finding a memorable band name is a difficult task, especially if there's any ambiguity around how it is spelt or pronounced. While the alt-metal and prog rock scenes tend to lean towards the mysterious, I also liked some of the wordplay coming out of the indie rock world.
Our original vocalist Sarah is a very open and honest person who would sometimes discuss her struggles with having Dyslexia. So the opportunity for wordplay sprung to mind: Dyslexic = Lysdexic = Liz Dexic. The very essence of literally rearranging the letters paired very well with the symptoms of Dyslexia while also providing a catchy name.
Of course we mean no offence to those living with Dyslexia, but rather viewed it as a way to redefine the word to become something that stands strong and independent. I like to think of it as rising above challenges you face in life.
How did you meet?
Cameron Spence (Guitar) and I met through mutual friends several years ago; naturally we had a strong connection with music. I was part of a rock/hip-hop project at the time doing vocals and needed a bassist – this is where Cam stepped in (not having played in a band before).
The project started to run its course, however Cameron and I continued on in his shed for a while as he shifted over to Guitar and I jumped on the kit to continue drum playing from previous years dabbling. It soon became obvious that we both really enjoyed these newly found musical roles and it wasn't long before we sought other members to create a full band.
Living in a small coastal town like Albany, it's relatively easy to make connections and by early 2019 we were all set to go with Sarah on Vocals and Sam on Bass – both incredible local musicians.
After releasing a couple of singles and performing across several venues within Albany, by late 2021 Sarah had to leave the band through life circumstances which was a major roadblock. This is where new vocalist Clay steps in; a fellow Albany muso who has done an excellent job so far in helping to evolve our sound.

How would you describe your sound?
Liz Dexic could sit inside the Alternative Rock and Alternative Metal categories. We like to keep songs very dynamic so the softest parts are fragile and the loudest parts have complete presence. You will hear aspects of 90s and early 00s alternative sounds and we have a tendency to explore progressive territories. The ultimate goal with our style is to create and direct melancholy and mood, no matter how quiet or heavy.
Who are your biggest influences?
We equally have crossover influences as well as others that are individual to each member. You may find elements of A Perfect Circle, Deftones, Chevelle, Nothing, Incubus, System Of A Down and more.
What does your creative process entail?
Sometimes it's spontaneously jamming, other times one member will come in with a riff or melody. In our history we have never had complete songs from a singular person and we always focus on contributing equally.
When we start to build a musical structure, Clay (or in the past it was Sarah) will try out certain sounds and vocal patterns not necessarily tied to any lyrics. We establish a feeling for the song and the lyrical ideas or theme starts to flow.
While I drum for the band, I also really enjoy the lyrical process. With 'It's Over, Simulation', Clay was brand new to the band and completely open to any direction for lyrics. I was more than happy to oblige and built a lyrical theme from the incoherent words I could pull out from early jam recordings with Clay months prior.
We are a very open group of people and will happily suggest ideas in any direction. For example, on any given jam session it could be Sam (Bass) pitching drum parts, Cameron (Guitar) blending in layering ideas, Clay (vocals) provide structural changes or myself with riff ideas. Having bandmates that are skilled in more than one instrument has been a great advantage.
How was your experience recording in the studio at Artisan Music?
This was our first time recording in a dedicated studio, which we were both excited and anxious about. Our minds were put at ease as soon as we met Patrick on the first day who is very welcoming and relatable. Simon dropped in during drum setup and mic placement, also very friendly and enthusiastic.
While we came in with a set song to record, based on a jam recording, Patrick gave us the chance to be open to some ideas he had. This proved to be absolutely beneficial for the song structure as a whole and improved the swing of dynamics for listener attention.
We tend to write longer than normal songs, and yet rather than cutting parts out we ended up with a slightly longer song that flows much better.
That first morning was spent figuring out the new structure, while cleverly getting us familiar to the recording environment. This meant by the time I was ready to record in the afternoon, I felt relaxed and more confident than when I had arrived. Naomi also came in for some snaps of the setup which we really appreciated.
Similarly, by having Sam play along in the morning, it seemed so effortless for him to get his parts down – both attributed to the atmosphere of Artisan Music and Sam's skill set. Patrick was both agile while operating and thoughtful in contributions along the way.
Onto Day 2, we all felt amped up as a band with the direction of the song. Cam got the chance to try out some different amp sounds for a very full layered sound. Recording within the console area was really interesting too, as we could sit around and come and go easily. Patrick brought in the special sauce for Verse 3 and the outro with some emotional keys that sat perfectly.
Clay was the final piece of the puzzle, where his practice run-through proved almost bang-on to use. With Simon sitting at the console and Patrick in a guidance role, they identified some tweaks in where notes could be carried or harmonised – legends!
Whether it's your first time in a studio, or you're a regular recording artist, as a band we wholeheartedly recommend Artisan Music Studios. Being equal parts relaxed and professional, we look forward to working with them again in the future.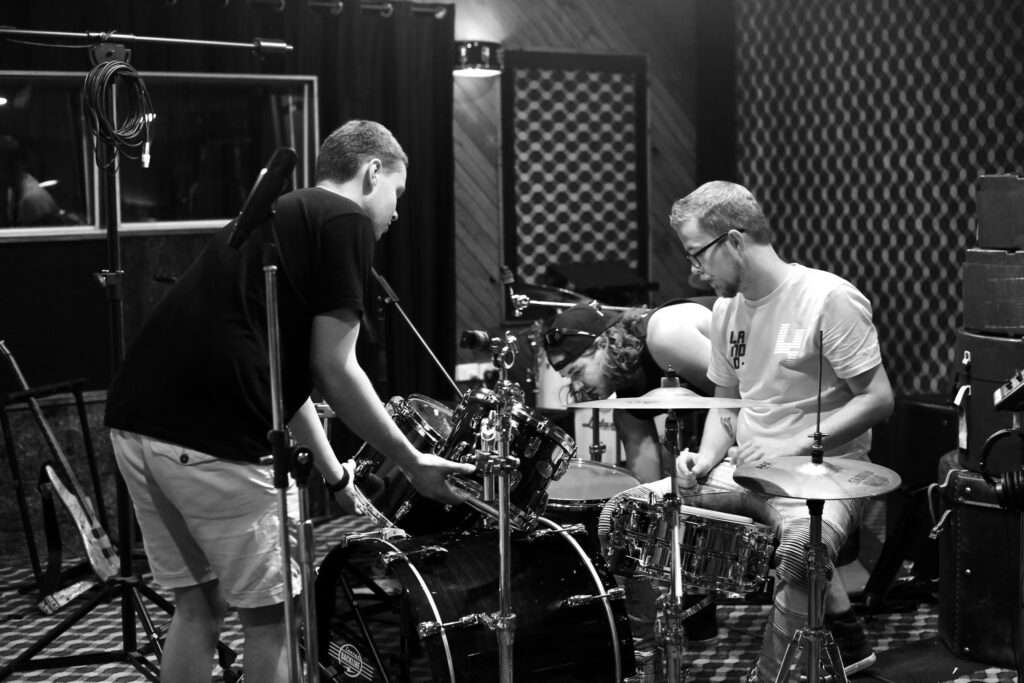 Check out this rad video diary capturing the making of 'It's Over, Simulation' at Artisan Music!
Check out Liz Dexic and their most recent single 'It's Over, Simulation' on Spotify NOW and make sure to keep up-to-date on socials!