The Rhodium Studio was designed by Graham Thirkell, an Australian pioneer acoustic engineer, during the late 90s.
Designed with the goal to produce an accurately balanced sound, the studio features pine wood interior with a 'centre-peak' ceiling acoustic design.
Featuring high grade, analogue and digital microphone pre-amplifiers for the highest quality audio recording, as well as a huge selection of soft synths and processing plug-ins, this studio is ideal for any and all music production, vocal recordings, analogue or 'in-the-box' mixes. 
Studio Equipment & Inclusions
TECHNOLOGY
OUTBOARD /CONSOLE
SPEAKERS
PLUG INS
INSTRUMENTS
TECHNOLOGY
Computer
Apple Mac Mini – Apple M1 16 GB RAM
DAWs
Logic Pro X
DSP Quattro
Interface
Orion 32HD
Effects Units
Zoom 9120
Headphone System
Behringer P16-I
OUTBOARD /CONSOLE
SPEAKERS
PLUG INS
INSTRUMENTS
The Foundry Recording Space
Perfectly balanced and beautifully 'open' sounding, this recording space is suitable for all.
Known for producing an amazing live drum sound, our recording room, the Foundry, was designed by Australian pioneer of acoustic engineering, Graham Thirkell.
The 40 square metres of recording space, is home to a Yamaha C5 Grand piano, a 1960s Ludwig 'Downbeat' drum kit and a fine selection of vintage and modern microphones.
Featuring a mix of wood panelling and an iconic carpeted wall to produce a perfectly balanced sound, this spacious recording room is prepared for all needs.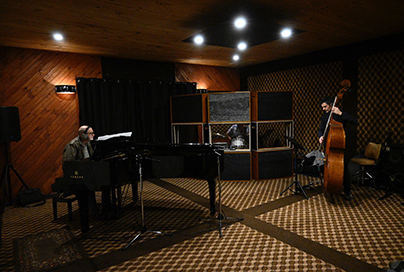 Free Studio Tour & Engineer Direction
If our website doesn't entice you enough… We offer FREE studio tours and pre-production meetings to help you get the most out of your project.