How did you first get into music?
I was initially involved in a lot of gospel choirs and arrangements as a child and kept singing from there. In my early years, I trained classically at the University of Western Australia (UWA) and continued singing for the rest of my life until now. During my time at UWA, I sung a lot of Italian and French compositions to gain better clarity and vowel roundness and pronunciation in my voice. I sung a lot of opera, Andrew Lloyd Webber, Handel etc early on. I then managed and was the lead singer of a lot of bands, whilst also performing at a lot of corporate events, bars and cabarets. All the while, I continued to grow my skill through re-composing covers and bringing in new elements to old songs. In my private time I was writing a lot of lyrics, but never really put music to them. I started playing initially on electric guitar but then moved to acoustic. I struggled to juggle advancing my guitar skills, often playing off and on, never really having the time to pick it up, with dancing, acting and a business going on, all at the same time too.
Over the last several years, I have really put in some work to self-train myself to play guitar more and have been finding it easier to play and find those tunes I have been longing for.
I've always been a competitive and professional ballroom and latin dancer at the highest level. I've represented Australia in Australia, New Zealand and Asia and nowadays I dance more as a coach, host or partner girls in events and competition. Then with my acting in theatre and on stage over the last several years, I decided to merge singing, dancing and acting into Musical Theatre, where I have acted over on the East Coast of Australia. I was nominated as best actor in a role for a musical in 2019 at the Gold Palm Awards and from there I've continued the journey. I have been moving and working around the world from Brazil to New Zealand and Asia, across Australia and through Europe. More recently I am based in London furthering my acting career via the London Academy of Music and Dramatic Art (LAMDA). Searching now for those bigger screen roles where I can also possibly use my songs more and continue writing.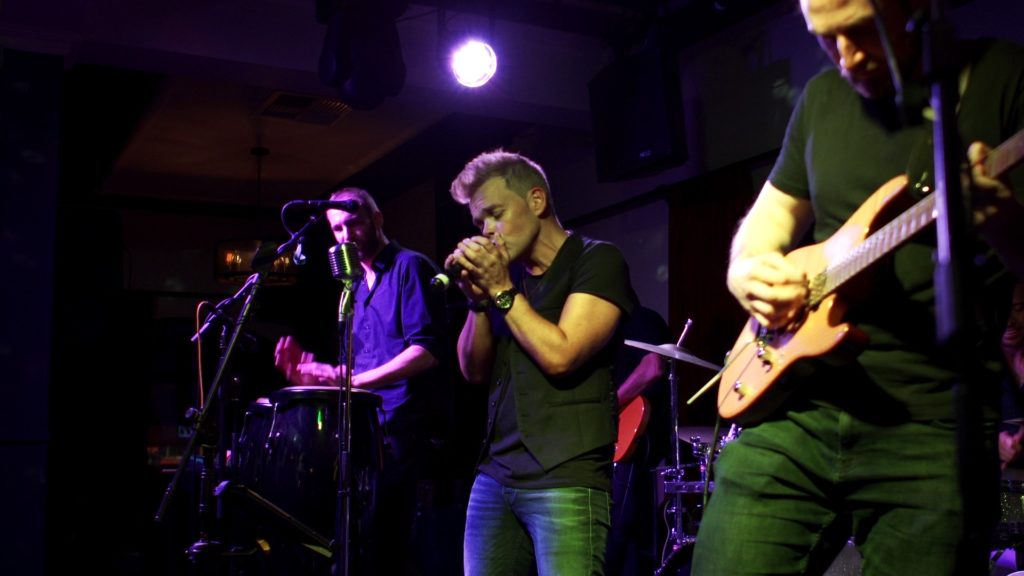 How would you describe your sound?
So my sound, I guess, is a folky to pop vibe that's aimed at film & TV, mainly romantic-comedy type film soundtracks. My acting brand at the moment is more romantic-comedy and comedy type films and so I thought I would l keep creating in that area. It all started when I wrote the script for a short film called "Lost a Shoe". However, that got interrupted by Covid and was shortened and changed significantly but the theme song remained and I just kept putting songs together after that.
My process lately has been to pick up the guitar and just play around with different things. I try different sounds and find riffs and different progressions. The theme of the song then finds itself and the words follow. I have a lot of thoughts and dreams in my mind and they just tend to come out I guess. Even if I just find the tunes on the guitar, my feel might not be guitar for a particular song but it's a start and the expressions of the song just fly in. My songs usually always tell a story, and progress as the song progresses, whether by the words, or the music. For instance in the song, "Just To Say Hello", I was playing around in the upper frets and found a simple progression. I thought of a daydream I had of a girl I have seen across the way. Then I'm lost in the daydream of her and I, before I slowly come out of it, or do I ever come out of it?……
What does your creative process entail?
I used to start with lyrics. I have a plethora of lyrics with no music, but I could never get to the last half of the song, without the actual music. I always felt the block. So I changed my angle. Now, I find the music or at least a verse, a bridge or a chorus, and build from there. The theme and words I feel from there. They just fit the music and the rest just comes together after that.
What influences your music?
I don't really have too many famous influences in my life to be honest. I just feel more freedom being myself and creating from who I am and hey, it might not appeal to everyone, but it gives me a sense of pride and freedom to express myself in ways I can't always do. My greatest sources of inspiration are my Mum and Dad, my closest friends, my dreams and my values in life.
How did you find Artisan Music?
I found them after some searching, shot them through some correspondence and they have been great ever since. I really like to work with people that I can feel a personal connection with. Whilst I like it to be a bit professional, I like a sense of rapport and understanding that carries through into a great relationship. Artisan has been great in that sense, as they are great people. I also know them through long-time friends of my own and band members, so it's always great to get some good word of mouth about kool people. They are also conveniently in a good location.
How was your time working in the studio?
Working at Artisan has been awesome! Simon has been superb and Pat sticks his head in now and then. Their advice is always of great value and appreciated. I have an idea about what I would like in my creations and I find it easy to translate that through to Simon and the crew. Each time I hear my visions coming to life, it's a great moment for me. I also really love the opportunity to gain further insights on my songs, whilst finding the sound that's in my mind. Simon provides a great understanding of what I'm trying to achieve. It's been an awesome journey and I am forever thankful!
Stay up to date with Mike via social media:
Instagram – mike.capri
Facebook – mike.caprii and mikel.capriano
Twitter – mikel.capriano
YouTube Channel – Mike Capri – Mikel Capriano