How did you first get into music and what sparked the idea to start the Kaye Collective?
I first started playing guitar when I was 14. I was initially inspired by riffy guitar focused music from the 70's and 80's. I soon became interested in song writing and started exploring other genres from folk to jazz, pop to fusion and blues to world music. When I was about seventeen, music began to take on a different role in my life, going from being a fun, exciting hobby to a means of expression and creativity. It became a meaningful way of interpreting what is going on inside my head in an often cathartic way. I've been writing and recording for thirty years now!
The idea for the Kaye Collective came about after I had done a couple of recordings with my 16 year old daughter, Margherita (Maggie). Up until then, I had always sung my own songs, though I'm far from being an accomplished vocalist! Maggie has been singing since she was a baby and has a beautiful voice, with a sweet tone, good pitch, clarity and feel. Since we live in the same house, she was the obvious choice for my latest tunes. It has been a great way for us to connect as well. I have written a number of songs with her voice in mind. She also did the cover art for the EP – she's a true artist!
My brother Mike Kaye is an incredibly talented singer songwriter and the idea behind the Kaye Collective is to have a space for all us Kayes to publish our creations in the present and in months and years to come. Some of Mike's tunes will be coming out soon! I also intend to add a few tunes from my back catalogue as time goes by.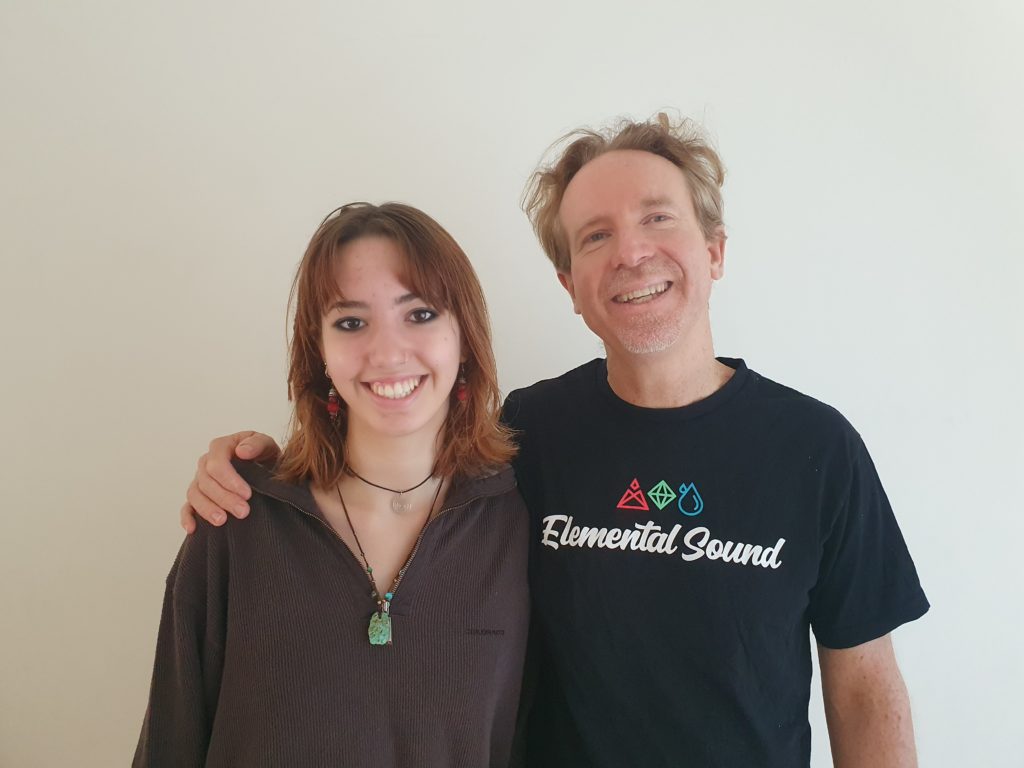 How would you describe your sound? Any musical influences?
That's a hard one! There are many influences in there: folk, blues, jazz, rock, psychedelia, pop, world music, funk, fusion, grunge, alternative…. Maggie's voice has a country feel to it too. After years of writing on acoustic guitar, I've re-embraced the electric guitar, finding real appreciation for good instruments and amplifiers (Fender tele and strat, '68 reissue Deluxe reverb amp). Dylan, Paul Kelly, Joni Mitchell, The Beatles, Van Morrison, Jeff Buckley, Radiohead, Nick Drake, Massive Attack, Pearl Jam, Midnight Oil, Miles Davis, David Gray, King Gizzard, Paolo Nutini,….. the list goes on!
What does your creative process entail?
My song writing often starts with an impacting experience, good/bad/positive/negative: something that inspires reflection and creativity. 'Swirls' was written as a father-daughter project for us to work on together. The track 'School Of Life' was inspired by the homonymous book by Allain De Botton (I highly recommend it to all!) and 'Melancholy' was written one morning when the prevailing emotion was, you guessed it – melancholy! I often just pick up the guitar and start noodling, latch onto something I like, hum a bit of a melody, jot down a few words and a song is born. The long arduous road between that step and the finished product is the hard bit for me. It takes time and patience, especially when juggling family life and work.
How was your experience recording in the studio at Artisan Music?
I've known Pat Carre' for eight years now and he is a true friend. The vibe at Artisan is relaxed and Pat and Simon do a great job. They know their s..t on all levels from composition and production to IT and computer stuff. They are helpful during the creative process and offer ideas when needed without being too intrusive.
Pat put me in contact with a number of his regular session musos for this EP including James Maley (cello), Daniel Drieberg (violin), Ryan Daunt (drums) and Frank Cianfagna (drums) all of whom did a great job! Pat and Simon are also both accomplished musicians and they both added a track here and there, spontaneously when needed. The addition of these musicians really gave value and depth to the compositions. I highly recommend using the session musician service!
Have a look through our Session Musician Directory HERE!
Any future plans for the Kaye Collective?
I have some more tunes in the pipeline at the moment so I'm hoping to get them all recorded in the next few months. Then there's the back catalogue I will select some tracks from. My brother Mike has some tunes we'll be adding to our catalogue soon and perhaps we'll do a gig here or there too, depending on my 16 year old daughter's social commitments!
Have a listen to Kaye Collective NOW on Spotify!